Grand Slam Dip
Apr 5, 2017, 16:52 PM
Hey batter, batter! Swing batter, batter! Baseball season is once again upon us, and we cannot wait to get started. The beginning of the season is one of our favorite times of the year. Not only is the weather nice, but your team still has a chance of making it to the World Series. Plus, there's nothing like having friends over to watch the game!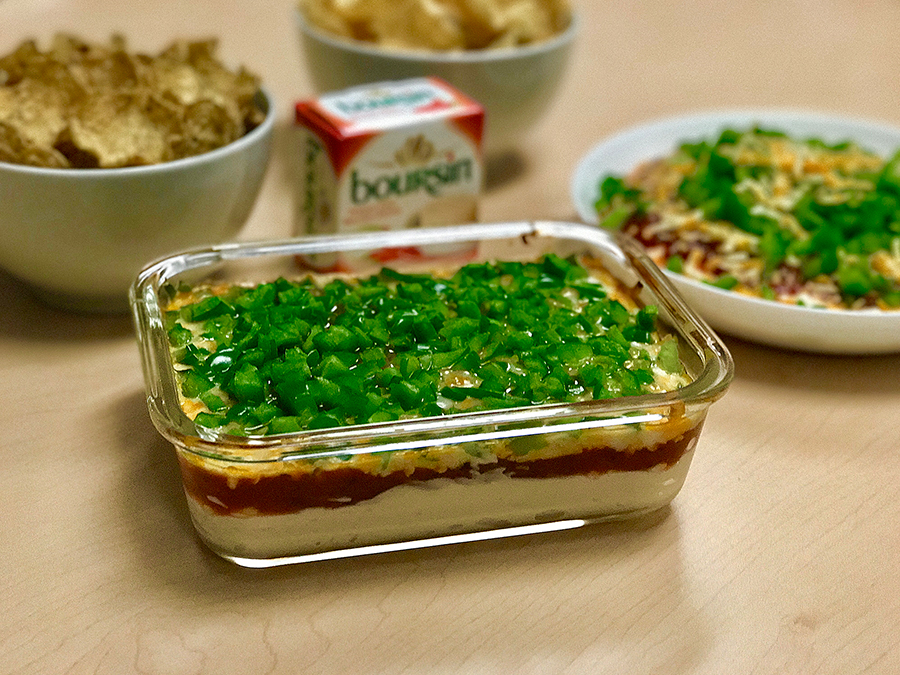 Take your ballgame get togethers to the next level with a winning, flavorful dip that requires little to no prep time. That's right, create a dip in less than 20 minutes and enjoy the entire game without the hassle of bringing out more treats for your guests. It's filled with cheese, vegetables, and salsa - all the ingredients that make a win much more satisfying. Get ready to knock it out of the park with this tasty snack!
Cream Cheese Layered Dip
Serves 4-6 people
Prep Time: 20 minutes
Ingredients
8 oz of original sour cream
8 oz package of original cream cheese
1/2 pack of Boursin Red Chili Pepper Gournay cheese
1/2 cup of salsa
2 chopped peppers (green pepper works best)
1/2 chopped red onion
1 cup of shredded marble cheese
Supplies
bowl
tray that is about 2 inches deep (if you are looking to bake this dip, make sure to use a glass or oven friendly tray)
mixer, hand or electronic
chips of your choosing (to dip!)
Step 1: Combine sour cream, cream cheese, and Boursin cheese in your bowl and whip together using a mixer.

Step 2: When ingredients are mixed well (you want the cream cheese to be as consistent as the sour cream), pour contents into tray and evenly spread.
Step 3: Top the cream cheese base with salsa, also spreading evenly until the entire tray is covered.
Step 4: Spread shredded marble cheese on top of the salsa.
Step 5: Add the peppers and onions on top of the shredded cheese.
Step 6: This dip can be eaten hot or cold. If you would like to bake the dip, set your oven to 350F and put dip in for about 10-15 minutes (until top layer of cheese melts).
Step 7: Serve!
We hope you enjoy this game-day cream cheese layered dip. We're sure your guests will forget all about peanuts and cracker jacks when you bring this hearty snack out of the kitchen. If you serve up this tasty treat be sure to share some fun snaps with us on Twitter, Instagram, or Facebook.