EXHIBITOR SPOTLIGHT: RENOVATIONFIND
Jan 5, 2023, 20:13 PM
We're excited to have RenovationFind as a sponsor of the 2023 Calgary Renovation Show. Before you visit this innovative company at the BMO Centre from January 13-15, please enjoy our brief interview with the RenovationFind team below.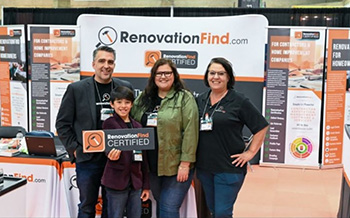 Q. How does your service work?
Homeowners can visit RenovationFind.com to find a free directory of pre-screened and certified home improvement companies, trades, and renovation contractors. The businesses in our listings have passed comprehensive background checks based on vital criteria. For example, we use a third-party organization to run legal and financial checks on the companies. In addition, they must have proper business licensing, liability insurance, and WCB coverage. The third-party organization also monitors the companies for customer complaints and reviews.
Businesses that are a member in good standing with the Better Business Bureau received a higher ranking on our site. Additionally, we continue to monitor our RenovationFind Certified companies to ensure they comply with our standards.
We created this service as a free resource for homeowners. First, we want people to feel comfortable hiring contractors, knowing they can choose from a list of vetted and trustworthy companies on RenovationFind.com. Secondly, we want to help promote ethical and deserving companies and get them more jobs. It's a win-win for the companies and the users of the site.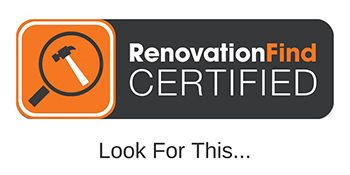 Q. What can we look forward to from you at the Calgary Renovation Show?
Come say hello at the show! We will have a booth set up and would love to chat with people and share more about how we can help with home renovation. You can also sign up for a RenovationFind Membership, and we'll enter you to win $1,000! Membership gives you exclusive promotions and discounted pricing from our Calgary partner companies.
We'll have our Post a Project service available at the booth. You can enter your project details, and we will send them to three relevant RenovationFind Certified contractors in your area. Then, those three companies will contact you to get more information or to provide an estimate for your project. For example, if you're renovating the kitchen, we can connect you with three of Calgary's best custom kitchen cabinet companies. You can get to know those companies and start your renovation from there!
Q. What advice can you offer homeowners?
Invest time into researching companies before hiring them for your home project! Ensure they are an established, reputable company with a legitimate business license, insurance, and WCB coverage. You'd be surprised how many "contractors" operate without those credentials.
Secondly, always ask the company to provide references. Ask for contacts for their last three jobs. That way, they can't pick and choose their best references, and you get the best idea of what it's like to work with them. You can also ask to see photos or videos of their work.
Finally, get more than one estimate for the job. Your estimate should include details and itemized pricing showing the project's costs. Do not accept a verbal quote or contract. A reputable contractor will provide these things in writing and be there to answer your questions if you have them.
Q. What inspires your services?
I have worked in the renovation industry for many years. Over the years, I've heard many horror stories about people getting ripped off by shady contractors during renovations. I've heard stories about contractors taking off with deposits, leaving terrible or even unfinished work. We created RenovationFind to offer a data-driven directory that helps connect homeowners with quality, trustworthy, and ethical renovation companies.
It also helps promote good companies, and that helps improve the negative reputation of the renovation industry.
Q. What is your favourite part of the Calgary Renovation Show?
We love meeting people at the booth and learning about their home projects. Then, when we get the chance to connect them with RenovationFind Certified companies, we feel we've really helped them out. Plus, we've helped out a deserving company too. It's a very positive thing!
Q. Are there any success stories you'd like to share?
We rely heavily on user feedback and conduct surveys to collect that data. Homeowners have reported positive experiences using RenovationFind.com. They've found reliable, quality contractors and that has reduced the stress involved in renovating. So whether they want to remodel the bathroom, install new siding, get a new furnace, or connect with one of Calgary's best basement development contractors, we can help them find a trustworthy company.
Plus, we've had success marketing the RenovationFind Certified businesses on our directory. Our digital marketing services for the companies increase web traffic, leads, and generate new business. It also stamps them with the brand of trust, an important selling point in this industry. Our companies have provided positive feedback about the service.
Q. What can people expect when they work with you?
If you're a homeowner, you'll find qualified, experienced, and ethical renovation contractors on our website. We work hard to provide a comprehensive screening and monitoring process. These processes ensure companies hired off our site are trustworthy and will do quality work.
Plus, if you sign up for a RenovationFind membership, you'll get discounted pricing and access to exclusive promotions from partner companies. You can search through a massive list of categories, including Calgary's best general contractors, painters, plumbers, roofers, floor installers, and many others.
Finally, partnering with us has many benefits if you own a business in the industry. We will promote your company to homeowners in your target market. You'll benefit from digital marketing services, including email campaigns, social media marketing, search engine optimization and targeting, blog and content marketing, and more. When you're company is successful, so are we!