Paint Your Way to a New and Improved Kitchen Renovation
Dec 15, 2022, 22:19 PM
Few home projects are more transformative or affordable than refreshing an outdated space with a coat of paint. When planning and budgeting for a large-scale renovation like a kitchen, re-painting drab countertops or refacing your old cabinets can give you a magazine-worthy kitchen renovation for far less than a total remodel. If you want a brand-new look for a budget-friendly price, consider going BIG with paint. Just about every surface and fixture in your home can be completely transformed with a little creativity, a brush and some semi-gloss.
When it comes to breathing new life into a room with colour and design, there is no one better than Leigh-Ann Allaire Perrault⁠—a DIY expert, Rust-Oleum spokesperson and TV personality who has helped Canadians transform their spaces and express their personal styles through her clever approach to DIY.
Leigh-Ann is bringing her top tips and tricks to the Sleep Country Main Stage of the 2023 Calgary Renovation Show, where she will be breaking down all things paint. Ahead of this year's show, we've asked Leigh-Ann to spill her secrets and share her favourite DIY painting how-to's for an on-budget kitchen remodel.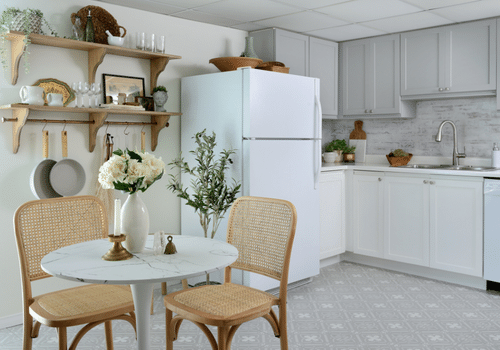 "The Kitchen is the heart of the home. It's one of the first projects homeowners tackle in a renovation, but it's also the space where it's easiest to go over budget," says Leigh-Ann. "There's no need to go broke on an expensive kitchen demo when you can affordably transform every surface in your space."
Giving Cabinets a New Life
New kitchen cabinets are one of the most expensive parts of a kitchen renovation. If your existing cabinets are in good condition, resurfacing or repainting them can save a lot of money. "If you're planning to tackle a DIY cabinet overhaul, the key is to invest a little bit of time and money on the right products," says Leigh-Ann. "I recommend using the Rust-Oleum Cabinet Transformations Kit. It comes with everything you need to tackle your project, including a de-glosser that eliminates the need for sanding. You can take your cabinets from bland to grand in as little as a weekend."
Custom Counters on a Dime
Dated, damaged or just plain ugly laminate countertops are no one's idea of glamorous. If you love the look of stone but don't have room in your budget for quartz or marble, the Rust-Oleum Countertop Transformations Kit makes it easy to get the natural stone look for less. "I love this kit," says Leigh-Ann. "It comes in a wide variety of neutral colours, including a formulation with Mica flecks that mimic the look of shimmery stone."
Freshen Up Your Floors
"If you have boring builder-grade floor tiles, dated linoleum, or even worn-out hardwood, you don't need to go to the expense and hassle of replacing them," says Leigh-Ann.
"The ROCA Home floor paint system gives you a seamless look and has a durable clear coat to protect your floors from everyday use. Once the base coat is applied, you can customize the look with a simple stencil application to create a trendy pattern for a fraction of the cost of new tiles."
Taking a Backsplash from Boring to Beautiful
If you're bored of your bland tile backsplash, consider playing around with colour, pattern and texture to add some personality to your kitchen. Because backsplashes, especially behind the stove, can attract a lot of grease and grime, it's important to start with a clean canvas before any paint is applied. "I like to spray a generous amount of Krud Kutter Cleaner and Degreaser and thoroughly wipe down the surface with a lint-free rag. This step is critical to ensure the area is free of kitchen grease, oil and food debris," says Leigh-Ann.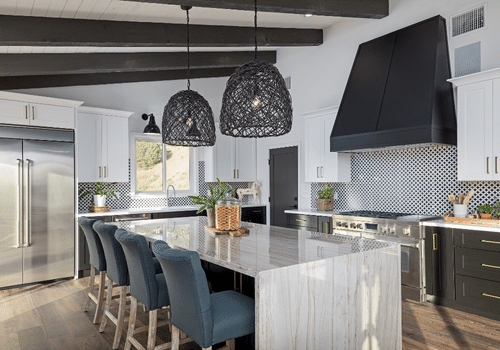 For more easy and affordable ways to refresh your home with paint, visit the Calgary Renovation Show from January 13-15, 2023 at the BMO Centre. Leigh-Ann Allaire Perrault will be on the main stage for her interactive presentation filled with DIY tips and budget reno tricks: "If it ain't broke, don't fix it… PAINT IT."