SPONSOR SPOTLIGHT: RENOVATIONFIND
Jan 10, 2022, 22:47 PM
We're thrilled to have RenovationFind as a sponsor of the 2022 Calgary Renovation Show. Before you visit this inventive company at the BMO Centre over the January 14-16 weekend, please enjoy our brief interview with the RenovationFind team below.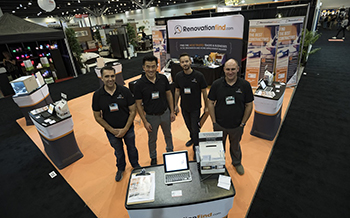 Q: How does your service work?
RenovationFind offers a free online directory of home renovation companies, including trades, contractors, and builders. The businesses on the website go through an extensive screening process. We use a third-party organization to conduct the screening based on seven criteria. The screen includes legal and credit checks, monitoring of online reviews, and checking for a valid business license, liability insurance, and WCB coverage. Then, the third-party organization continuously monitors the certified companies to ensure they keep up our high standards.
RenovationFind helps homeowners find relevant, qualified, and trustworthy contractors for their home projects. Whether you need to find the best roofing contractors in Calgary, a reputable home builder, or an experienced electrician, you'll find a certified company on the website. In addition to helping homeowners, it also promotes the worthy renovation companies in Calgary and helps improve the industry's reputation.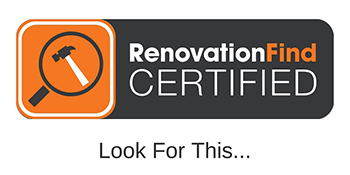 Q. What can we look forward to from you at the Calgary Renovation Show?
We will have a booth set up at the show and invite people to come by and learn more about us! We will also be helping visitors post their projects online at our booth. We will send their project details to three relevant RenovationFind contractors. Then, the contractors will contact the homeowner for more information and provide a detailed estimate for the work. For example, suppose you want to upgrade your electrical service or need wiring installed for your basement development. We will send your project details to three of the best electricians in Calgary. It's a simple way to start the quoting process.
We are also doing a fun giveaway at the show! Come by, sign up for a RenovationFind membership, and you can enter to win $1,000 and an iPad. With your membership, you'll get special discounts and exclusive access to promotions from our partner companies in Calgary.
Q: What advice do you have for homeowners?
Research. Doing your research on any company you hire is a vital first step of your home renovation project. A quality company will have a valid business license, liability insurance, WCB and provide references. When getting estimates, your quote should be detailed and in writing. It is your right to ask for these documents. If a company doesn't provide proof of these things when asked, you should not hire them.
When it comes to references, always ask for contacts from their last three projects. This way, the company cannot choose the customers they know will give a glowing reference. Learning about their latest three projects will give you a better picture of the company and their work.
Q: What inspires your services?
I've worked in the home renovation industry, through another company, for many years. Unfortunately, I have heard countless stories from many homeowners who have had a negative experience with a contractor during home renovations. I've heard stories about being ripped off, overcharged, treated poorly, or leaving terrible work or without finishing the job at all. RenovationFind helps ensure this doesn't happen. Instead, homeowners can find quality, honest contractors who provide excellent work and customer service.
Q: What is your favourite part of the Calgary Renovation Show?
We love meeting homeowners and helping them find quality companies for their renovations or home projects. But, in addition to helping homeowners, we want to support the RenovationFind Certified companies on our directory by sending customers their way. The Calgary Renovation Show allows us to do both those things, and it's a win for everyone.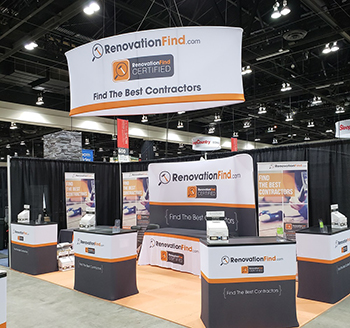 Q. Do you have success stories you'd like to share?
Many people have had positive experiences working with RenovationFind Certified companies. We have received customer feedback that RenovationFind has taken away a lot of the stress people feel when renovating their homes or hiring a contractor. We've can also share the success of the companies listed on our site. We offer a range of digital marketing services that helps companies get in front of their geographical target demographic. They get quality leads and jobs through the website. Both companies and homeowners have had success with the connections made through our site.
Q. What can people expect when they work with you?
Our certification process is thorough. That allows homeowners to have peace of mind when hiring a company to work on their homes. If you're a home services company looking to grow your business, RenovationFind can help boost your online presence and get qualified leads. Homeowners can browse through many categories of home services, including the best plumbers in Calgary, electricians, painters, siding contractors, insulation contractors, general contractors, builders and more!
For the businesses on the RenovationFind directory, we provide a range of digital marketing services to promote them to their target market. We get their profile and content in front of homeowners through email marketing, blog posts, social media marketing, and search engine targeting. As a result, RenovationFind Certified companies can improve their traffic and grow their business.
The Calgary Renovation Show is your source for trusted home experts, like RenovationFind. Join us at the BMO Centre January 14-16, 2022 to get great ideas for your space. We can't wait to see you at the show!