150 Square Feet Redesigned for Fresh Inspiration at #CRS20
Jan 7, 2020, 16:01 PM
As we ramp up for the
Calgary Renovation Show
, we are very excited to share the details about our 3 unique theme days, brand new to this year's Show! From DIY to Reno + Decor, to Sustainability + Energy Conservation, our theme days will bring you everything you need to freshen up your home for the fresh new year. Explore our three new features and get inspired on each one-of-a-kind theme day.
This year, we welcome Two Queens Home, ANA Interiors and Green Calgary to the Show as we explore their expert tips for home improvement in three different spaces.
Get inspired to tackle a brand-new DIY project and find ways to refresh your space, as Two Queens Home uses do-it-yourself strategies in designing "Upcycle DIY"
Discover top Reno + Decor tricks from ANA Interiors to bring your vision for your home to life, as you visit "Inspiration: Reno + Decor"
Check out "Sustainable Solutions," as the Show team creates a green-focused space that relates to Sustainability + Energy Conservation, helping you learn how to make your home more efficient.
Find everything you need to make the most of your space and achieve your new year's home resolutions. Learn more about these exciting new features and what you can look forward to in three unique 150 sq. ft. designs below!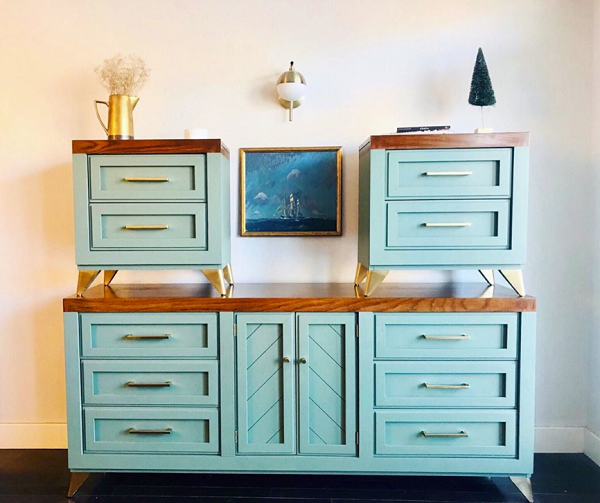 Image courtesy of Two Queens Home
DIY Day
Introducing Two Queens Home, the DIY, thrifting & restoration duo here to help you tackle your daring "do-it-yourself" projects. Up your DIY game with upcycling and explore 150 sq. ft. of bold DIY designs and artfully restored furniture at Upcycle DIY, designed by Two Queens Home. From custom furniture refinishing to restoring your decor pieces, Two Queens Home will help you bring your vision to life through thoughtful thrifting and radical restoration.This space is sure to inspire creativity and bring new life to your space with DIY.
Reno + Decor Day
For over 10 years, ANA Interiors has taken inspiration from travel, architecture and nature to create beautiful designs across Calgary. Ready to bring your dream home to life this new year? Whether you're looking to refresh your space or begin a full renovation, ANA Interiors is here to guide you and bring you inspiration. Find 150 sq. ft. completely transformed with renovation hacks, decor how-to's and nifty design ideas with Inspiration: Reno + Decor, designed by ANA Interiors. Find all the tools and tricks to remake and space this season.
Sustainability + Energy Conservation Day
Are you ready to reduce your carbon footprint? Redo, reset and reduce with Green Calgary as you explore 150 sq. ft. of Sustainable Solutions. Top tips and tricks from local eco-experts and sustainable products and services from select Calgary Renovation Show exhibitors, this innovative new feature will help you bring eco-friendly elements into your home this season. Learn about some energy-saving hacks that will help you save a few pennies in 2020 and inspire your family to make your space and lifestyle more sustainable.
Whether you're looking for fun ways to spruce up your space with DIY projects or are interested in tackling a new renovation project, the Calgary Renovation Show has all the inspiration and how-to's you need. Even find ways to go more 'green' this year with tips and designs catered to help you save energy and introduce sustainability at home.
Stay tuned for more features to be announced and get excited to see local industry experts at this year's Calgary Renovation Show! Prepare by getting your tickets online and save $2!